Balancing Weighing Imbalance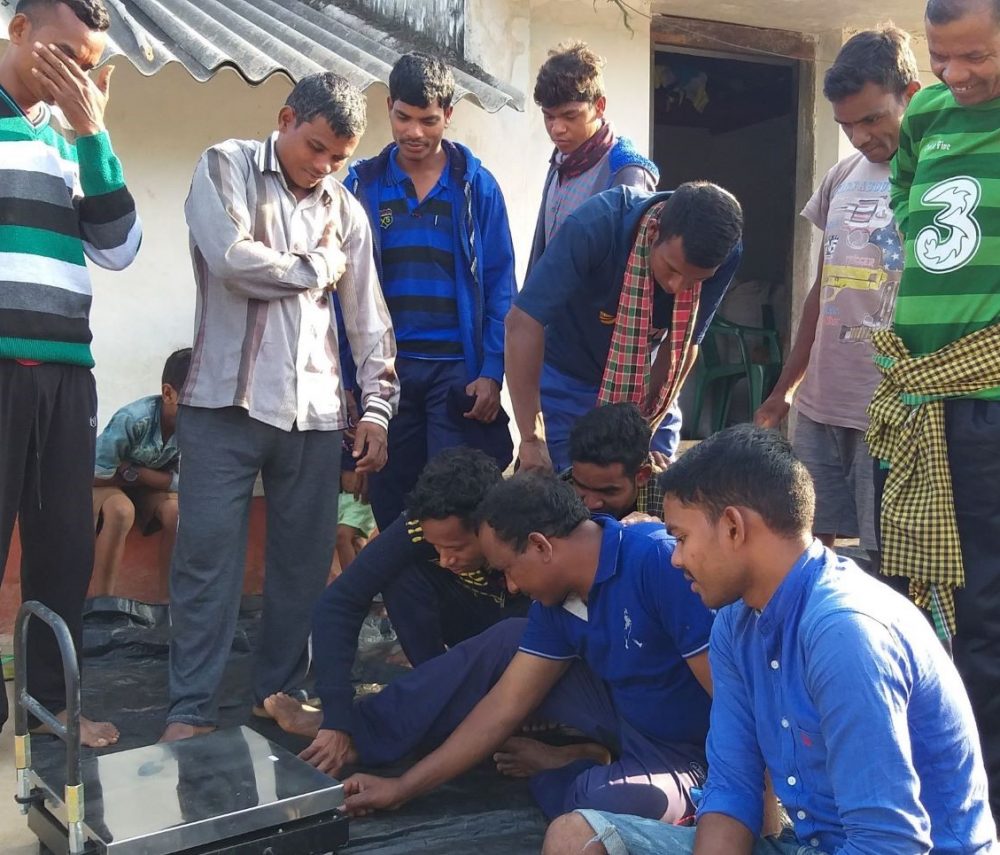 In Narayanpatna block of Odisha, farmers from Tentulipadar and Bijaghati Mandal (Gram Panchayats) villages used to sell their farm products in the Narayanpatna market. Each farmer visits the weekly market with his produce four times a month on an average.
During each visit, they carry 30 to 50 kg harvested products .Weighing is done at the market. They suspected a tampered weighing machine was being used by the middlemen. This continued for many years. As most of the farmers are illiterate, they couldn't verify or resolve this.
OSF, while working on the School Kit project to encourage attendance in schools at the region, we learned about this issue and planned a simple intervention. 2 weighing scales of 100 Kg capacity were presented to the farmers group.They use the machines daily.
It is kept at a central place. Youth are assigned the responsibility to weigh the farm products for every farmer. The weight is recorded on a slip and given to the farmer, who presents it at the Mandi. The middlemen are now forced to go by the actual weight.
This benefit reaches about 450 families. Mr. Gopi Bingadika a farmer in the region says "In a month, I get an additional Rs.50-100, which is a big thing for my family." This works out to approximately Rs.27,000 worth of savings to the community in a month.
Closure to School Closure Plans
"We are running a school with less than 20 kids now and we have received an order to shut the school as it is clearly below the cut-off level fixed by the Government. Can you do something about this? I see that you arranged for good School Kits from an NGO (referring to OSF) in other parts. If it can be done in this village area, perhaps we can encourage the kids as a last attempt to continue schooling." – These were the words of Mr.Niranjan Bagha of Narayanpatna education block.
Panabadi Village is a quiet community of 65 families, who are passionate farmers of the mountains. They practice slash and burn agriculture. The entire family including children participate. Parents therefore don't see much value in schooling.
OSF arranged the School kits. A meeting was arranged in the school and the village families were informed. In the program, the necessity of education, regular attendance and completing education diligently was stressed by social worker, Mr.Ananta and the HM. The parents were apprised on the significance of sending children to school. Each child was presented a School kit. The school kits became a hit.
"We saw an immediate change – the very next day onwards, more than 30 children started coming to school. I reported this to the Narayanpatna Block EO." With 50% more than the benchmark level, the OSF initiative put a happy closure to the closure plans! The children still continue and the school is all alive!